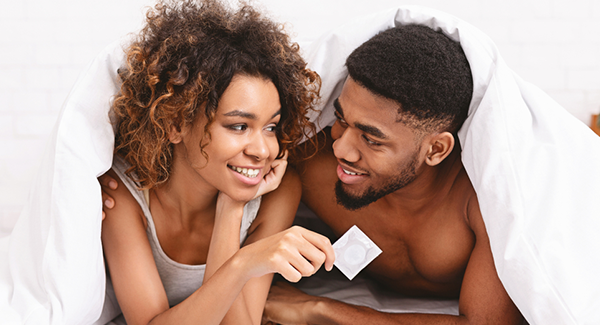 In honor of Sexual Health Day, taking place on September 4th, we're here to encourage everyone to be an advocate for their own sexual health all month long and beyond. Proper sexual health can be beneficial for your physical, mental, and emotional well-being. Here are three simple steps you can take toward bettering your sexual health in the long-run.
Regular visits to your doctor
Many people put off checking in on their health. However, it is crucial to schedule regular meetups with your OB/GYN or primary care physician to evaluate and address any problems with your sexual health– like erectile dysfunction, painful intercourse, or lack of libido. Any and all of these difficulties can affect not only your relationships, but also your state of mind.
Staying on top of your sexual health with routine, recommended exams for your age, will decrease your chances of experiencing some of these issues. However, if you are struggling with a form of sexual dysfunction regardless of preventative action, a medical professional can guide you toward a prescription to treat ED, a lubrication for more comfortable sex, or may even refer you to see a sex therapist to work through your symptoms. Consistent monitoring of your sexual health will allow for early detection of common health issues, which will benefit you in the long-run.
Have safe, enjoyable sex
One of the keys to good sexual health is, in fact, having good sex. Not only is having regular, enjoyable sex beneficial for your overall mood, but can also have physical gains, too. Intimacy has been proven to relieve stress, and improve self-image. Physically, sex can boost your immune system, overall fitness, and even improve heart health.
It's important that you don't forget, however, to practice safe sex. Whether you're having casual sex, or sex with an established partner, it's critical that you're extra cautious, and especially critical that you use condoms. Any sexual activity can put you at risk for STIs, so you need to be fully aware of all uncertainties of having sex with a specific partner. Get to know a person before making a decision to be intimate, be open, honest and don't be afraid to ask questions.
Get comfortable with your sexuality
Though it may be easier said than done, it's essential that you become comfortable with your sexuality in order to experience a healthy, satisfying sex life. Embracing your sensuality can begin with achieving self-love. Once you recognize your flaws and embrace them through small acts of self-care, you'll begin to feel more self-confident, which can filter into your sex life.
When you're confident enough to openly communicate your needs and wants, you'll get more pleasure out of your sexual relationships. Remember that you have nothing to be ashamed of in regards to your sexual desires or sexual orientation. Honest communication between you and your partner about your needs is a major step toward becoming confident in and embracing your sexuality. If you're not particularly comfortable with your sensuality, things like self-love journaling, doing things you're passionate about, and refraining from comparing yourself to others can help you become more and more confident in the bedroom.
This September, take the time to invest in your own sexual health. Good sexual health can coincide with a positive, satisfying lifestyle– so have fun, be smart, and be safe.
For more information on topics like sexual or reproductive health, visit our blog.